Lenny Howell
- Canadian recording artist, guitarist and sonwriter
promo video of his original song, "Jimmy Kay"
...just one of 10 original tracks from the new CD,
"Soul Bearing"
We now have copies of the new album and they are ready to ship!
Please consider filling out the order form. It will give you a unique chance to help promote Canadian talent in your own "backyard"
and you will receive a quaility recording that you will enjoy for years to come..

It will get you thinking...
Click on the picture to order -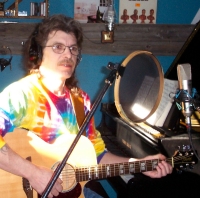 Back to Ma-Me-O Music Home Page
Biography of Lenny Howell
Born in Rainy River, ON on February 6, 1957. I started to play guitar when I was 7
so my brothers would play with me (long line of pickers & grinners).
I grew up listening to my father's Jim Reeves albums & even though he was an
old cowboy, he tolerated the Black Sabbath rehearsals in the farmhouse,
& my mother would always say "That's very nice Lenny, now play 'Proud Mary'."
Played my first high school dance at 12 when I was still in public school. Cool!
At 18, turned professional & began my apprenticeship, playing across Canada
with the likes of Valdy, Murray McLaughlin & others who would allow me to express myself.
Thanks to Ida Banks & her western Canada agency, I was able to experience
performing live for various audiences & continue my apprenticeship.
Thanks Ida, I will always love you!
Twenty years is a long time, but in 2004, I met Miles Jackson & he showed me the
magic of all those people I wish I would have apprenticed with…. so here it is!! Hope you enjoy it!!
.....on a personal note ..this project took 5 years and we believe was worth it ... I can only hope you do too!!
- Lenny Howell
Back to Ma-Me-O Music Home Page

Last updated - October 2012