"Band du Jour" clips and stuff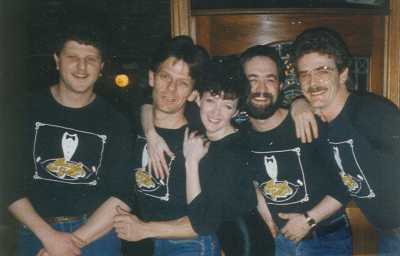 "Band du Jour" at Dicken's Pub circa 1984...
Phil Hall (bass, vocals),
Jack Hiles (drums, furnace repairs)
Deanna Dubbin (vocals)
Tom McKillip (guitar, sax and vocals),
Miles Jackson (piano, vocals)
Here is the first of what I hope will be a few clips from the Old Scotch nightclub in Calgary. In this video, Julian Kerr is with the band playing keys, and Miles is singing Paul Simon's "One Trick Pony"
Here is Tom's version of "What Does it Take/How Sweet it is" and Phil's "Don't Go Changin'" ....
The video for these clips was taken by Jack Stoltz.
Still one of my favourite tunes, Deanna singing "Can't Hide Love" by Earth Wind and Fire
If you have any video, pictures or good storied from the days of the Old Scotch, please pass them on to me at miles@ma-me-o.com and I'll try to post them up here!

I can be contacted at:
Miles Jackson
Ma-Me-O Music Ltd.Box 7, 606 Beach Road
Ma-Me-O Beach, Alberta, Canada
T0C 1X0
Email inquiries to: miles@ma-me-o.com
Telephone: 1-780-586-2678
"Doin' it right on the
Beach
!"